Dr Andy Carr
MbBCh, MRCGP, FRACGP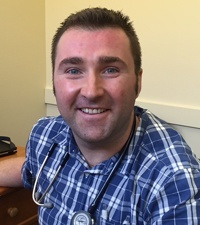 Dr Andy Carr
Dr Andy Carr graduated from Cardiff University Medical School (previously University Wales, College of Medicine) in 2007, after 6 years studying Medicine as an undergraduate there, gaining a Medical bachelor and Bachelor of Surgery degree. He then embarked on a multitude of hospital placements within the UK healthcare system, the NHS, including; Gastroenterology, Colorectal Surgery, Paediatrics, Ear Nose and Throat, Accident and Emergency and Respiratory Medicine. He then underwent further in-hospital General medical training, including placements in Care of the Elderly, Cardiology, Acute Medicine (diagnostics in sick patients admitted to hospital) and further Respiratory medicine placements.
In 2011, Andy chose General Practice as his speciality and embarked on a further 3 years of experience in Adult and Old Age Psychiatry, Dermatology and Rheumatology, and General Practice Registrar work. He worked as a General Practitioner in the challenging South Wales Valleys, before finally joining us here at Brighton beach Medical Centre in October 2015.
Andy is also able to perform, in addition to General Practice, steroid joint and tendon injections of Shoulder (Both lateral and Posterior Approach), Knee, Trochanteric Bursa (outside of the upper thigh), where these are clinically appropriate.
Current Qualifications
MbBCh (Medical Bachelor, and Bachelor Surgery, Cardiff)
MRCGP (Membership of the Royal College of General Practitioners)
FRACGP (Fellowship of the Royal Australian College of General Practitioners)
Feel free to pop in and pay him a visit!